Phengphian Laogumnerd Cuisine's Favorite Dishes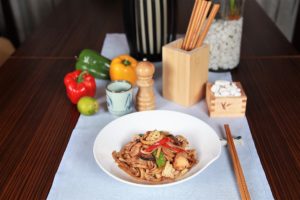 Here at Phengphian Laogumnerd Cuisine our speciality is Asian fusion food. Now, for those of you unaware, fusion food describes dishes that infuse elements from a variety of different culinary traditions. Dishes can be based on one particular cuisine but be prepared with ingredients from another. The point of fusion is to give the diner a unique experience, that's what we try and do with our inventive dishes. Asian cooking works perfectly as a fusion concept, a lot of the flavour profiles are repeated throughout different cuisines which therefore makes them easy to combine effectively. To give you some insight this post is going to explore three different and equally tasty cuisines that we love to combine and experiment with. Read on to find out all about the different cuisines that we get inspired about.
Thai cooking is a cuisine we love to infuse our dishes with, colourful, creative and full of flavour, this is a cuisine that we are constantly incorporating.  The region is well known for its spicy yet sweet flavour profile, something that defines this perfectly is Som Tam, spicy papaya salad is a national favourite and it really showcases the unique flavours of this region. One aspect of Thai cuisine that we use in a lot of our fusion dishes is Nam Prik, or Thai chilli paste, this muddled chilli, garlic, shrimp paste and lime is the base ingredient for a lot of Thai curries, it's something we combine with everything, we even have our own special Phengphian Laogumnerd Cuisine Nam Prik, incorporating our signature spice flavour. Nam Prik is this is the essence of Thai cooking and due to its versatility is a perfect tool for our fusion dishes.
Japanese cooking provides excellent contrast to some of the heavier Asian cuisines. Freshness and presentation are at the heart of this cuisine, these are the main principles we apply.  Sushi is one of the most popular dishes in the nation and it can be perfectly applied to fusion cooking, at Phengphian Laogumnerd Cuisine we do a sushi platter, each piece is inspired by a different Asian cuisine, a customer favourite. Presentation is crucial to Japanese cuisine, we make it our mission to adhere to their standards, this is less to do with cooking and more to do with our mind-set, we channel Japanese care and precision.
Chinese cuisine is comprised of eight distinct regional cuisines, all with different flavour identities, we take aspects from all of these regions. The main aspect  however of the cuisines that we apply in our cooking is the utilisation of the whole animal, we often take unusual cuts of meat and cook them according to traditional Chinese recipes, of course with a Phengphian Laogumnerd Cuisine twist to it. This cuisine is the staple of a lot of our fusion food, a constant source of inspiration.